As I travel around the district, it is so rewarding to visit your club meetings and social events. I particularly love to induct new members (three this week) and attend social events as it gives me the opportunity to have dialogue with many of you. Please continue to ask and if my calendar is free, I (we) will happily join you.
Friday September 16th was a particularly bad day as I learned that a long-time neighbor who had moved away, had died of cancer. The day got markedly worse when I received a call that my dear friend and long-time Rotarian from the Rotary Club of Crescent City, Jim Stege had died from Leukemia. Jim was a fixture in District 6970 but not because of his 6ft.+ stature, but because of his long-term commitment to youth in our district. Jim Stege's name is synonymous with RYLA. Jim was a previous member of both the South Jacksonville and St. Augustine Rotary clubs before he moved to Satsuma and opened up Stegbone's Fish Camp. Jim was a humanitarian as big as his stature as he was currently providing pro-bono architectural services to churches in Crescent City. Our hearts go out to both Jim's family and the Rotarians of Crescent City. We will share details as we get them. Go with the wind, my friend.


When we reflect on yesterday's Jaguars game with the Indianapolis Colts, I hope this makes you realize that you had better buy your tickets now! Even though, I want to remind you that our partnership with the Jaguars is about more than Football, it is great to celebrate a win. First and foremost, it is about contributing to Polio and second, it is an opportunity to enjoy fellowship with your fellow Rotarians. If the Jaguars are having a great season, that is an added benefit, but try not to make this an expectation. If you already have tickets or cannot go when your club is going, think about giving a ticket to a Veteran, a Rotaractor or Interactor. Most importantly, sign up now before the seats you want are gone. Several of the options have already become limited. For now, it is really great to be in 1st place in the AFC South.
Perhaps the most fun I had this week was my interaction at the Rotary Club of Ocala with Past District Governor Frank Rasbury's wife Naida. Is that a million dollar smile or what?



[Ring the Bell]
Pictures of the Week
This week was a great opportunity to see the district, starting with the Rotary Club of Ocala where Assistant Governor Stan Plappert and I were welcomed by Past District Governor Frank Rasbury and president Manal Fakhoury.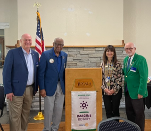 After Assistant Governor Stan Plappert let me use his office for the afternoon, we returned to the Rotary Club of Ocala Brick City where we were hosted by president Christian Clarke and her lovely daughter.

District Governor-Elect John Tabor joined me at the Rotary Club of Northeast Florida with a warm welcome from president Sandra Hartley as we were joined by Assistant Governors Susan Hill and Preston Mangus.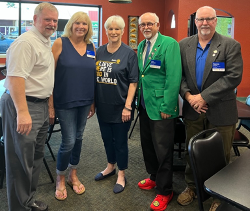 Assistant Governors Gerry Kelley and Bea Fore joined Lt. Governor-Elect Dean Scott and Past District Governor Mike Darragh as I caught up with many old friends at the Rotary Club of South Jacksonville including president Charlie Cofer.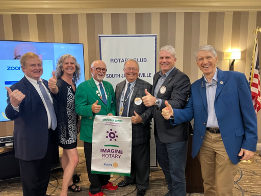 Assistant Governor Rusty Hall attempted unsuccessfully to keep me in line as Carolyn Mudgette helped me to induct new member Jay Smith at the Rotary Club of St. Augustine Sunrise with president Jake Parham.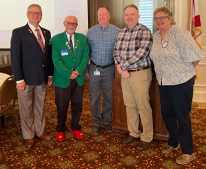 Assistant Governors Ron Heymann and Theresa Shuster as well as president-elect Pedro Tamaya and president Tonya Baudek of the Rotary Club of Fernadina Beach joined me as we inducted Frances Morbell and Martin Wilson as the newest members of Rotary.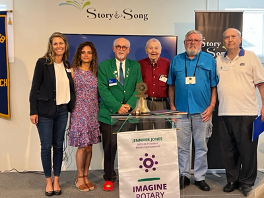 What a fun evening at Assistant Governor Gary Williams' home as we joined the Rotary Club of Bartram Trail/Julington Creek for an Adam Ezra Concert club fundraiser/social. Thanks for including us, Jack Murray.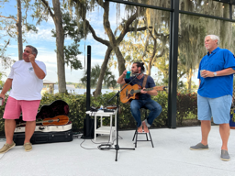 Assistant Governor Rusty Hall and I ended the week at the small but mighty Rotary Club of Hastings. Although president Amanda Bergamasco was sick, it did not stop her from leading the meeting through zoom.