On July 1 Rotaractors became full members of Rotary. Like many Rotary clubs around the world, Rotary clubs struggled during the Covid period. On Tuesday night I had the chance to visit Beaches Rotaract as they build back to their pre-Covid splendor. As they inducted 13 new members, I felt compelled to tell them that they are not a Rotaract Club, but rather just an awesome Rotary club with younger members. Beaches Rotaract Rocks!

When we reflect on yesterday's Jaguars game with the L.A. Chargers, I hope this makes you realize that you had better buy your tickets now! Even though, I want to remind you that our partnership with the Jaguars is about more than football, it is great to celebrate another win. First and foremost, it is about contributing to eradicating Polio and second it is an opportunity to enjoy fellowship with your fellow Rotarians. For now, it is really great to continue to be in 1st place in the AFC South.
World Polio Day is October 24. What is your club doing to recognize this important event?
Pictures of the Week
This week I traveled to the Rotary Club of Orange Park with District Governor-Elect John Tabor where we were hosted by president-elect Gi Teevan, president Bo Norton and District 6970 Paul Harris Society chair Larry Klaybor.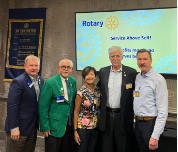 Great visit to Beaches Rotaract where I was hosted by Professional Development chair Claire Ross and president Alex Elias.

The small but mighty Rotary Club of Baker County welcomed me with president Julie Johnson and president-elect Michele Hodges along with Assistant Governors Bea Fore and Gerry Kelley.