Although Lee and Collier Counties took the brunt of Hurricane Ian, the exit point where the storm again showed its force was Volusia and Flagler Counties. I spoke with many of you this week concerning the impact of the storm on your communities. Whether you were raking leaves or distributing food, thanks to all of you who stepped up in your communities, they appreciate your efforts.  Please keep track of hours worked and food distributed. We can continue to help Volusia County and surrounding areas recover from Hurricane Ian. Available slots are open to fit your schedule. Click on the button to sign up. A member of our Disaster Response Team will be in touch to coordinate your assignment. Thank you!
Bethune Cookman College was hit particularly hard. Past District Governor Rich Turnbull interfaced with the College to first complete a needs assessment.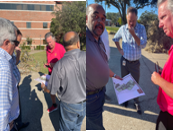 Past District Governor Rich Cooper and the Rotary Club of Downtown Ormond Beach helped many of the homeowners impacted by the storm.


President Mike Leonard and his wife Staci from the Rotary Club of Daytona Beach were on hand to help out at Bethune Cookman College.


Just a reminder that our partnership with the Jaguars is first and foremost, about contributing to Polio and second it is an opportunity to enjoy fellowship with your fellow Rotarians. We need to have you send in your ticket requests now! The November 6 game with the Raiders is coming fast and you do not want your club to be stuck without tickets for Military Appreciation Day because you delayed. If you already have tickets or cannot go when your club is going, think about giving a ticket to a Veteran, a Rotaractor or Interactor. Most importantly, sign up now before the seats you want are gone.
There are some great opportunities for Zone training that I learned about in Baltimore, but we want to make sure that you all understand that these are open to everyone, so we are bringing to you four (4) opportunities to delve more deeply into specific topics.  Each of these initiatives are led by experienced, passionate Rotarians and you are invited to join the discussion, learn more about the issues and identify action steps for you, your club, or your district.
OCT. 11:  Empowering Girls and Women
OCT. 13:  Human and Sex Trafficking
OCT. 17:  Protecting our Environment
OCT. 19:  Diversity, Equity, and Inclusion
Club Tax Returns: whether clubs are a subordinate under Rotary International's 501(c)(4) group exemption or are independently tax-exempt, the IRS requires that all Rotary clubs in the U.S. and its territories file an annual information return. For those clubs whose tax year follows the Rotary year, the deadline to file is 15 November. The form a club must file is dependent upon its gross receipts for the year. For more information, please see Frequently asked questions about annual reporting requirements for exempt organizations at www.irs.gov.
Save the Date
Membership Summit: Saturday January 28
Mid-Year Rotary/Youth Summit including Food Packing & District Grant Training: Saturday March 25
Pictures of the Week
This week one fun fundraising event took place in Clay County. The Rotary Clubs of Green Cove Springs and Fleming Island's Swine and Dine featured Pig Racing—yes, it is a thing!

What a great event for Clay County with over 200 spectators and recognition of so many great things that Rotary is doing in these communities. PS, no pigs were killed or injured in the completion of this event—although they did have some great barbeque which we will leave to your imagination.