And the Family just keeps getting bigger!
Please join me in welcoming our newest member to our Rotary Family!
District 6970, please join me in congratulating The Rotary Satellite Club of Oceanside in Jax Beach, USA. This fine addition was officially admitted to our family last week on Wednesday October 27th.
From what I hear, this club has an All-Star cast in their membership and I'm certain we will be seeing great things from them in the near future. Special thanks go out Area Governor Mary Stutts, Membership Co-Chairs Katherine Batenhorst and Bill Griffin, and President Cathy Hagan and the entire team from the Oceanside Rotary. Way to grow!
Rotary Insurance Program – It's important that we know the facts.
On good advice, I wanted to make sure that everyone is familiar with the coverages that are and are not included in the Rotary International Insurance Program that all clubs in the district are included in.
Fortunately for us we have a seasoned insurance professional as our District Insurance Rep in Jim Register.  Jim is a member of the Rotary Club of Mandarin and is also a long time and very highly regarded State Farm agent. I recently had a chance to connect with Jim and discuss the program and here's what we need to know:
Each Member is charged $5.94 a year for the coverage we have as a District, a club, a board member and as a Rotarian through our RI dues.
Here's some of the coverage's provided:
General Liability – this includes events and our regular club business and is intended to cover for property damage or personal injury that we do to others.
Directors and Officers – to cover the directors and officers of our district and clubs.
Here are some of the coverages that are NOT included in this program that the individual clubs may consider purchasing.
Event Cancellation Insurance which can cover financial loss due to weather events as well as some other factors. Important to note event cancellation insurance for COVID or other similar events can not currently be secured.
Worker's compensation – coverage for injuries to employees.
Volunteer Accident Coverage – Coverage to volunteers (Rotarians and others) while they are working for a club or district but not being financially compensated.
Any of the above coverage can usually be purchased and often at a very affordable rate. For further information, please visit:
Our District Insurance website at https://rotarydistrict6970.org/insurance/
RI's Insurance page at https://my.rotary.org/en/us-rotary-club-and-district-liability-insurance-program  
The RI Insurance program website – log in needed at https://msgfocus.rotary.org/c/1wU5RfkKgxLODRAxvReCq8i4IysJ
Our District Insurance Representative, Jim Register at jim.register.g2k4@statefarm.com
Upcoming Rotary Events
District Conference and Vibrant Club Seminar – I would love to see you there!
Flamingo Celebration & Vibrant Club Seminar November 5th & 6th at the Renaissance World Golf Village
Click here to Register for the Events – they are ala carte, so come for a little or come for them all. DACdb registration: www.dacdb.com/index.cfm?EventID=77530947
Click here to book your group rate for Rotary District 6970 – 2021 District Conference.
We will celebrate the 2020-2021 Flamingo Year in style with a Beach Bash on Saturday Evening.
Major Donor Reception – In conjunction with District Conference.
Please join us at the upcoming Major Donor Reception to be held immediately preceding the District Conference Celebration on November 6th. We will meet outside on the terrace at the Renaissance at World Golf Village for food, refreshments, and fellowship as we recognize and show appreciation to our newest Major Donors and Arch Klumpf Society members.
We will also hear from inspirational guest speaker, PDG Wayne Nomura, who is the Rotary Foundation's Technical Coordinator Chair of Cadres in Water, Sanitation and Hygiene. Register online for the Major Donor Reception and/or the District Conference Celebration at https://www.dacdb.com/index.cfm?EventID=77530947.
Or, if you prefer, email PDG Ken Baker at jkbaker1327@gmail.com to RSVP for the Major Donor Event only.
Pirates on the Edge, November 13th, 11:00 a.m. – 10:00 p.m. at Menard May Park, Edgewater. Brought to you by the Rotary Club of Edgewater. http://piratesontheedge.com/
Community Shredding Event
Brought to you by the Rotary Club of Palm Valley – Saturday November 13th, 10:00 a.m. to noon.
For more information please see the following link:  https://palmvalleyrotaryclub.org/
Send me your clubs upcoming events with a link if you have it and I'll get it in the Minutarian, so we share with the other Rotarians in our District.
Pic of the Week- It's a tie!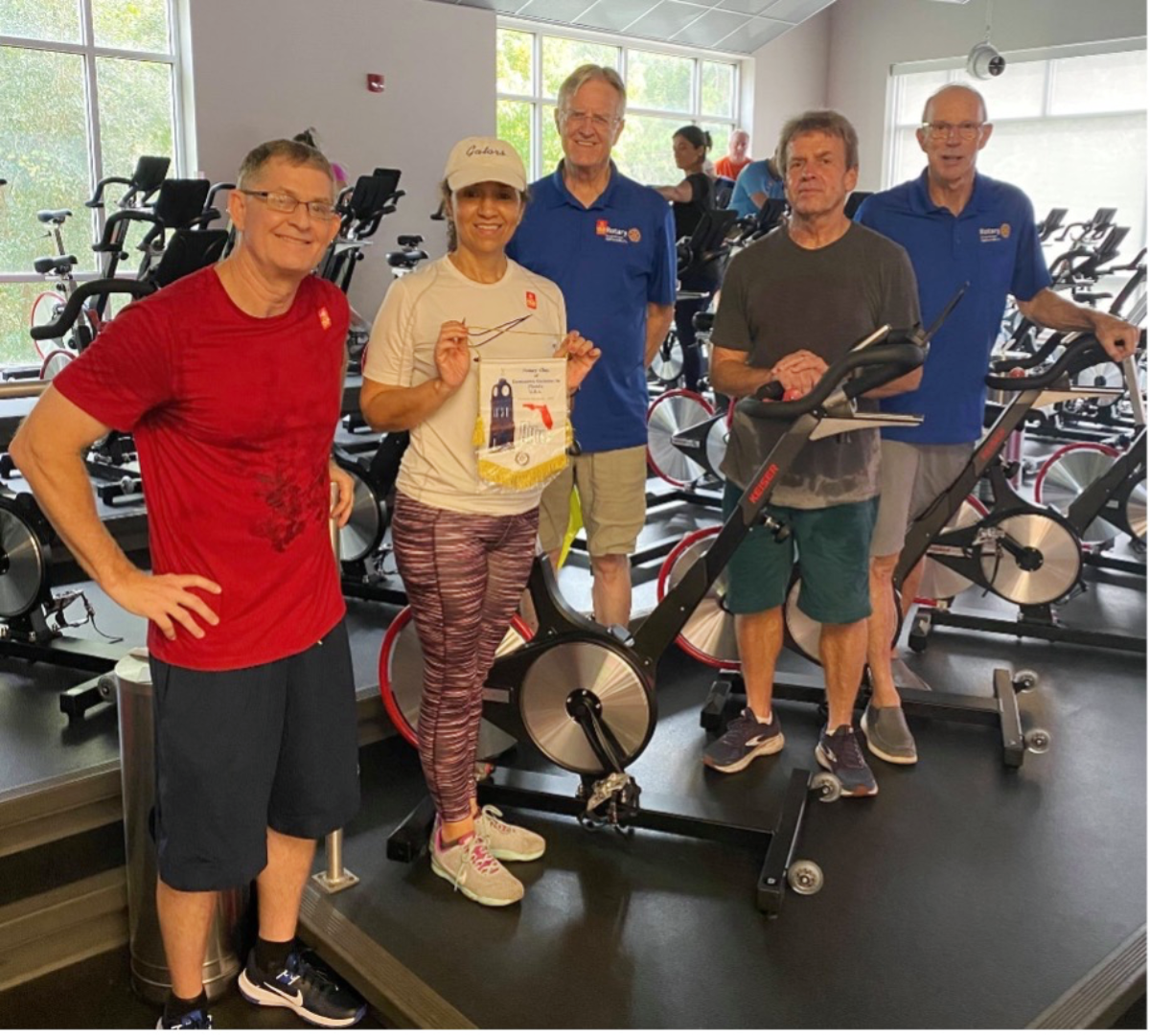 It was a tough decision this week, so chose not to decide (I still made a choice). Two outstanding World Polio Day events last week.
First, the Great Gainesville Rotary did a Ride to end Polio, apparently without riding anywhere.   And, Oceanside Rotary had a World Polio Day Halloween Happy Hour. Got a good pic of Roti and some hippie. I'll have to ask DGE Michelman who that guy is, as it seems standards in that club may be slipping.
Service Above Self,
Coop