It is now official as Past District Governor Rich Cooper came to Jacksonville Oceanside and presented my club with the District 6970 Banner and he gave me the ceremonial gavel.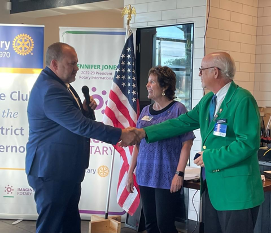 Are you ready for some Jaguars football to support Polio? Past President of the Rotary Club of Jacksonville Traci Jenks will be this year's Jacksonville Jaguars Liaison. In this role Traci will be working with the club, Jaguars chairs. If you have not already, we need you to appoint a chair for your club and send this to Jeff Michelman, ASAP to help us get organized. More details about tickets and ticket prices will be forthcoming.
Mark your calendar as this year's Jaguars games to support Ending Polio will include:
11/6: Oakland Raiders (Military Appreciation Day)
11/27: Baltimore Ravens (Sunday after Thanksgiving)
Early in January, date not yet confirmed, Tennessee Titans
Have you signed up for RLI on August 6th yet? How about The Vibrant Club Seminar on August 20th? I sometimes hear from Rotarians one of two things about attending District training: "I have been in Rotary so long, I will not learn anything" or "I just joined, let me get settled first." I guess my response to everyone is that we can always learn more about how we can better serve our community, so I hope that you will join us at one or both of these events. One of the best parts of Rotary training is that we always have fellowship and exchange ideas. Quite honestly, you are never too young or too old to do that!
Picture of the Week
Master of Ceremonies at the District Conference on April 30, Bob Wiltfong was magically transformed from a pirate to the President of the Rotary Club of Ponte Vedra. Given that Bob published a book entitled the BS Dictionary it would appear that some of the "Pirateness" is likely to re-emerge throughout his year as Club President.