This week was characterized by highs and lows as we began the week nervous about Hurricane Nicole and ended the week with a restart of our wonderful Rotary Youth Exchange program.
Our heart goes out to the residents of Volusia County as we await clearer damage assessment from Hurricane Nicole, but this County has been unable to catch a break as they watched as homes became part of the ocean.

Rotary Youth Exchange Chair Scott Burgess outlines the process to parents and eager applicants as RYE Alumni (ROTEX) provide support for the restart of one of District 6970's most important programs.


At the Rotary Club of New Smyrna Beach, we celebrated Veterans, including Rotarians Mike Merchant, Charles Miller, Bill Biedenbach and Neal Coates.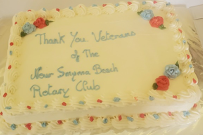 Assistant Governor Charles Miller organized a food drive to deal with food insecurity in the New Smyrna Beach area.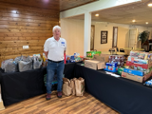 Great fun at the Rotary Club of Crescent City with President Lucía Valdivia-Sanchez, and Assistant Governor GW Watson as we installed Tom Reich as a new member of the club. Tom was previously a Rotarian in Orlando and a district leader. Longtime member MaryAnn Braddock is his sponsor. We are happy to have him join us.


Maureen and I had a chance to spend Veterans Day with our Jacksonville Oceanside Rotary Friends as we made lunch for 100 senior citizens at Beaches Community Kitchen.

On Saturday, Maureen and I spent the afternoon with the Rotary Club of Fernandina Beach for the taste of Amelia. This was a great time for the entire community and a great opportunity to showcase Rotary.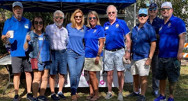 OK, so the Jaguars lost another game to one of the top teams in the NFL this week, but recent evidence shows that they do better when Rotarians are there to cheer them on. Just saying… We have two Rotary games remaining, November 27 and January 8. We need your support! Buy your tickets today. Don't forget, you can donate to a student or veteran.
The first ever D6970 Membership Summit is scheduled for Saturday Morning January 28, 2023. Signup details are coming.
We are planning RYLA in three Acts with Act I coming March 25. Signup details are coming.
We have just learned that a limited-size National Immunization Day (NID) trip to India has been scheduled for January 24-February 3, 2023. As you have all heard me say, "this is one of the best things that I have done in my life." If you or someone you know is interested, please contact Past District Governor Nancy Barbee ASAP.
As we celebrate Rotary Foundation Month, we are congratulating all of the Rotary clubs that had every member generously give at least US$100 to our Annual Fund. Just 7% of Rotary clubs Worldwide earned this achievement! We are sending a special thank you to both past and current club presidents who lead their clubs to earn this achievement.
We need your help, as a Rotary leader, to raise funds and awareness for The Rotary Foundation this Giving Tuesday, November 29. This Global Day of Generosity is an opportunity for all Rotary members to make a big impact with a gift of any size to our Annual Fund-SHARE. Last year, we raised more than ever before — over $1 million! We're asking you to help us surpass that this year, so that we can do even more good together.
The Foundation will again recognize the top three clubs Globally in fundraising, donor participation, and online giving. Find out which clubs made the list last year and set a giving goal for your club this year. Just make sure that the gifts are made on 29 November.
Pictures of the Week
A special event at the Rotary Club of New Smyrna Beach with Past District Governor CarolAnn Jeronimo, Assistant Governor Charles Miller, President Kevin Para and Assistant Governor Hewitt Dupont. During my visit, we inducted long-time Rotarian Milton Fulton as a member of the club, and honored Gregg Plouff and Logan LaCras with Paul Harris Fellowships.

Great fun at the Rotary Club of Crescent City with President Lucía Valdivia-Sanchez, and Assistant Governor GW Watson.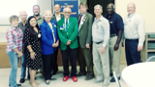 Assistant Governor Al Formella and I visited the Rotary club of Metro Ocala. Unfortunately, in all the commotion of preparing for the hurricane, we forgot to get a photo. Thanks president Tucker Branson for the hospitality.
President of the Rotary Club of Fernandina Beach Tonya Baudek is more than a leader, she is a doer, as we all saw at Taste of Amelia.

This group of awesome young women from the Interact Club of Yulee HS were everywhere helping throughout the afternoon.


DGN Mickey Ulmer and I took a break at the taste of Amelia with Maureen, Gale Ulmer and George and Suzie Sachs from the Rotary Club of Flagler Beach.


What a fun night of fellowship as the Rotary Club of Amelia Island Sunrise as they celebrated their 15th anniversary with Past District Governor Tommy Grimes and Charter President Stan Fishman. This club became a 100% Paul Harris Club in 2015, reaffirmed it on their 10th anniversary in 2017 and again on their 15th anniversary. Nice job!