I hope everyone is enjoying our new cooler and drier weather, feels as though fall is finally here. And, so begins the holiday season, a busy time for all, full of Rotary cheer, fellowship, and service for all. The end of the calendar year is just around the corner and still so much to do!
Don't forget to sign up for International Convention
https://convention.rotary.org/en/houston
You won't want to miss the first International Convention in over two years. I'm looking forward to celebrating Rotary and all of our accomplishments at the 2022 Rotary International Convention in Houston, June 4th through the 8th. Sign up early and take advantage of early bird pricing, additional it is important to reserve your rooms early, the good hotel rooms near the convention center tend to fill up early.
We'll just have to work that much harder.
I'm still working on the details but there are reports from reliable sources of the WHO and through the Rotary chain, that we have two new reported cases of the wild polio virus in Afghanistan. It is reported that two children ages 10 & 25 months have shown positive for the wild polio virus in the Emamsaheb district, Kunduz province. It is believe the two cases are related. There is good news. It is reported that the Emamsaheb district was recently covered by house-to-house vaccination teams during the nationwide polio vaccination campaign earlier this week. Through these efforts, it is hoped that the virus will be contained.
Upcoming Rotary Events!
The Rotary Club of Daytona Beach invites you to join them, this Monday.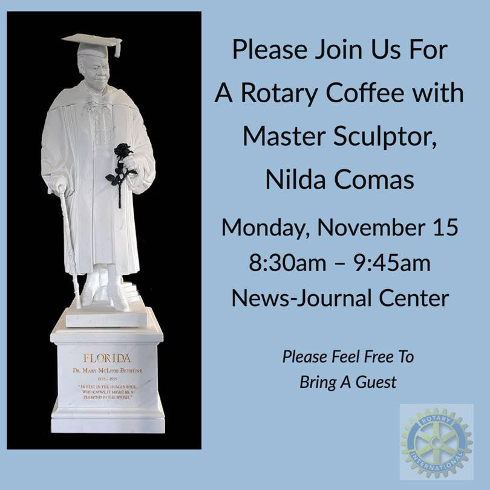 The Rotary Club of Flagler County will be presenting the 16th Annual Fantasy Lights Festival and would love your help. They would love your help setting the event up on the weekend of November 20 & 21. The event itself will run from November 27th and December 30th.
To sign up to help, please go to the link:  https://www.needsconnector.com/FantasyLights2021
Upcoming Club Visits
Pic of the Week
I had a spectacular time on Saturday night at Riverside Park in Edgewater, at Pirates on the Edge. It was a great event put on for the first time by the Rotary Club of Edgewater. I took an opportunity to get a pic with Club President Steve Holmes of the Edgewater Club and President CarolAnn Jeronimo from the New Smyrna Beach Club
Service Above Self,
Coop