New Flash: It is now official. Dale Moe from the Rotary Club of Northwest Jacksonville is now our District Governor Nominee Designate. Dale will serve as District Governor for the Rotary Year 2025-26. Dale is an extremely competent, high-energy person committed to Rotary's mission. We will have more information about Dale on the District's website next month. Please join me in congratulating Dale on his selection. This year the Rotarians serving as members of the nominating committee were: Nominating Committee Chair PDG Cynde Covington (Southpoint), Karen Hatch (Ocala Brick City), Sam Hall (Ponte Vedra Beach), Julie McClain (Palatka Sunrise), David Gracey (Gainesville), Susan Hill (Orange Park Sunrise), and for the first time, we had a Rotaractor participating in the process, Alex Elias (Beaches Rotaract). This committee executed its duties with professionalism and dedication to selecting the most qualified candidate from a pool of exceptional candidates and I commend them for a job well done.
We hope that you and your family enjoyed a great Thanksgiving. We started the day with the Turkey Trot to benefit those with Brain Injuries and ended with dinner with great friends (many of whom are Rotarians).


We have finalized the details for our first ever Membership Summit to be held at Daytona State College in Palm Coast from 9am-12:30pm on Saturday January 28. Cost is $25 and speakers will include, Past Rotary International Director Jeffry Cadorette; Tom Gump, Aide to Rotary International President Nominee Stephanie Urchick; and Audley Knight, Zone 33/34 Regional Membership Officer. Seating will be limited, so sign up now.
I have told you that it is important to recognize that evidence shows the Jaguars do better when Rotarians are there to cheer them on. This week we did it, 28-27. For those who missed the game, I feel sorry for you. It was amazing. We need your support! Tickets are still available for the January 8 game. Buy your tickets today. Don't forget, you can donate to a student or veteran. A group of us had a chance to celebrate Rotary Fellowship together and thank your district leaders, including Interact and Rotaract for all they do!


We are planning RYLA in three Acts for 2023. The effort is being led by the District Youth Services Committee Chaired by Lt. Governor Michael Bruce. We are hoping that every club will sponsor 2 students. Cost will be $150 per participant and will include:
Act I—Saturday March 25 in person 8am-4:30pm, Keynote Speaker Jade Gordon (including a food packing event with Rotarians).
Act II—Saturday April 15 Zoom 9-1pm.
Act III—Saturday May 13 in person 8-4:30pm, Keynote Speaker Orion Jean (this will be running parallel to our District Conference and will feature separate presentations from District Conference speakers).
As we celebrate Rotary Foundation Month, we are congratulating all of the Rotary clubs that had every member generously give at least US$100 to our Annual Fund. Just 7% of Rotary clubs earned this achievement! We are sending a special thank you to both past and current club presidents who lead their clubs to earn this achievement.
We need your help, as a Rotary leader, to raise funds and awareness for The Rotary Foundation this Giving Tuesday, November 29. This Global Day of Generosity is an opportunity for all Rotary members to make a big impact with a gift of any size to our Annual Fund-SHARE. Last year, we raised more than ever before — over US$1 million! We're asking you to help us surpass that this year, so that we can do even more good together.
Pictures of the Week
Great meeting at the Rotary Club of Jacksonville with a Mayors debate. A wonderful chance to run into many Rotarians from throughout D6970. We should all be proud of how the Rotary Club of Jacksonville created an opportunity for civil discourse. Nice job, Past President Bill Sorenson.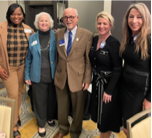 Mason from Fletcher Interact joined Jacksonville Oceanside Past President Cathy Hagan and me to provide opportunities for those in need.

What a wonderful celebration of Rotary and the community. How could they miss with a theme of "Imagine Christmas." Thank you to the Rotary Club of Flagler County and especially Past President Bill Butler for taking the tragic loss of your daughter and using her inspiration to celebrate your community. What was really cool was that their featured school in Palm Coast is called "Imagine School" of Town Center. When Rotarians work together, we can Imagine a better world.