Dues X Two!
A quick reminder about dues.  In January you will be receiving two invoices.  The first will be from Rotary International for semi-annual dues to RI and the second will be from District 6970 for semi-annual district dues.  Rotary is so nice that we get to pay twice.
ROTARY LEADERSHIP INSTITUTE
We have had to postpone the RLI class that was scheduled on January 29th due to Covid-19 concerns. Please look for a revised date to be announced in February.
District Assembly and Conference – Save the Date!
When:  Friday April 29th and Saturday April 30th.
Where:  Hyatt Regency in Jacksonville
Who:  All of us.
I hear there might be pirates…..
Trouble logging into DACDB?
I've heard from several Rotarians that they have had some difficulties logging into DACDB. We may have a solution that will help. The solution may be for you to go to the old login page. See below.
Upcoming Events in Our District
The "Moot" Thomas Golf Scramble will be held on January 17th at the Country Club of Ocala, put on by the Metro Ocala Rotary Club.
Florida In February BBQ Contest – Hosted by the Rotary Club of Deland and benefiting Volusia-Flagler YMCA.
Where: Deland Elks Lodge    614 S. Alabama Ave, Deland
When: Saturday, February, 19th, 10:00 a.m. to 4:00 p.m.
A Tribute to Chicago (The Band) – Hosted by the Rotary Club of Port Orange – South Daytona.
Where: Daytona Beach Shores Community Center, 3000 Bellemeade Drive, Daytona Beach Shores.
When: Saturday, January 29th, 6:00 p.m. Welcoming reception. 7:30pm Concert begins.
Pic of the Week: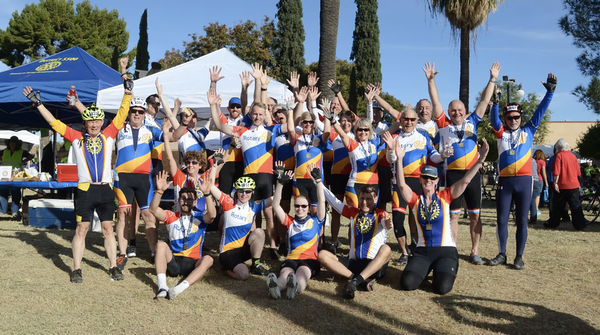 The 2021 Ride to End Polio raised a total of $2,996,868 including all donations from all sources.
This is the 12th year Rotary has participated in El Tour de Tucson, and over that time, our Rotarian cyclists have raised $56,296,868 including PDG Marshall Butler and DGE Jeff Michelman.
Rotary District 5500 does an amazing job hosting Rotarians from around the world for this incredible event. The ride has many distances to choose from and it's highly recommended that you make a trip to Arizona for fun and fellowship while raising money for Rotary's #1 external focus.
Service Above Self,
Coop