Attention All President Elects!
PETS 2022 is right around the corner.
Whether you are a first time club president or serving as president for the second or even third time, you will not want to miss this year's President Elect Training Seminar "PETS."
It looks like we have a great line up this year and we are back in person!
Some of my best Rotary memories have been at the annual meeting of Florida PETS. Over 500 Rotary leaders from around the state will converge to learn from others, share ideas and be inspired by some of Rotary's greatest. I look forward to seeing all of you from March 4th – 6th in Orlando.
Meet our new Public Image Chair, Amy Workowski from the Rotary Club of Daytona Beach!
Amy has resided in Daytona Beach with her husband Ken for 20 years via Chicago. Amy runs a successful advertising and event management firm aptly called The W Agency. The W Agency specializes in creative development, digital strategy and the utilization of events as a way to grow revenue. Amy's client roster includes national accounts as well as ones in the Volusia/Flagler market.
Amy and Ken have a two-year-old white German shepherd named Beatrice who is the apple of their eye. Amy has been a member of the Rotary Club of Daytona Beach since 2015 and has served as the Club Communication Chair and the Webmaster.
She's very involved in the community and serves or has served on various boards, including as the president of the Daytona Beach Police Foundation, president of The Junior League of Daytona Beach, president of the Daytona Beach Chapter of the American Advertising Federation, and the treasurer of the Museum of Arts & Sciences. Amy is also a proud member of the Civic League of the Halifax Area.
Amy is here to assist our clubs and members. Please reach out to her with any questions about how your club can enhance your public image. Email Amy at thewagencydaytona@gmail.com
Nominations Are Due!
Please consider submitting a nomination for an exceptional Rotarian to receive one of these prestigious awards!
Outstanding Leadership Awards applications are available as of  January 15th.
Each year we ask you as Rotarians of District 6970 to show your pride and nominate our members (from your club or another in the district) who have gone above and beyond to demonstrate continued leadership in Rotary and our communities. D. Brent Williams and Al Watson both serve as symbols of the best of Rotary. Please take the time to recognize your outstanding colleagues for their leadership.
Rich Turnbull, Past District Governor
D. Brent Williams Award Information https://rotarydistrict6970.org/d-brent-williams-spirit-of-rotary-award/
Al Watson Award Information https://rotarydistrict6970.org/al-watson-quiet-hero-award/
District Assembly and Conference – Save the Date!
When:  Friday April 29th and Saturday April 30th.
Where:  Hyatt Regency in Jacksonville
Who:  All of us.
It's going to be a swash buckling good time!
Upcoming Events in our District
A Tribute to Chicago (The Band) – Hosted by the Rotary Club of Port Orange – South Daytona.
Where:  Daytona Beach Shores Community Center, 3000 Bellemeade Drive, Daytona Beach Shores.
When:  Saturday, January 29, 2022.  6:00pm Welcoming reception.  7:30pm Concert begins.
Florida In February BBQ Contest – Hosted by the Rotary Club of Deland and benefiting Volusia-Flagler YMCA.
Where: Deland Elks Lodge    614 S. Alabama Ave, Deland
When:  Saturday, February 19th, 2022  10am to 4pm.
19th Annual President's Day Charity Golf Tournament at Deer Creek
Join the San Jose Club for their 19th Annual President's Day Charity Golf Tournament at Deer Creek on Monday February 21, 2022.  11:00 am registration 12 noon shotgun start. Box Lunch, BBQ and Awards after play. A variety of player packages and sponsorship levels are available. Proceeds benefit multiple organizations including the Williams YMCA, Boy Scouts, Seamark Ranch, Field of Dreams Baseball and ReThreaded. Contact Mike Farmand at 904.349.6838xt103 or Mike Blakey at mblakey@gtleasing.com for more details.
Pic of the Week: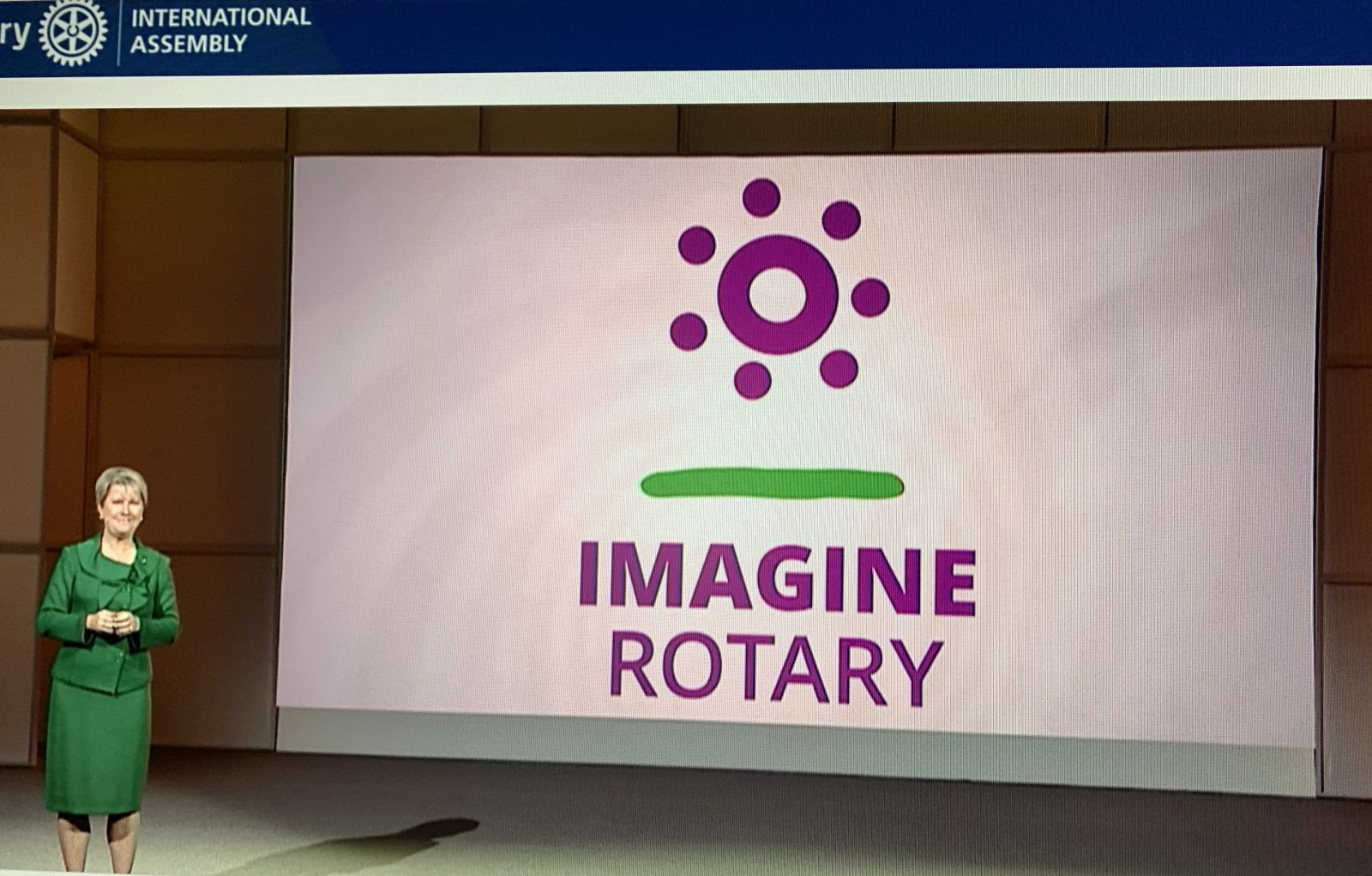 Rotary International President Elect, Jennifer Jones, announced next year's Rotary Theme. "Imagine Rotary" Download the new Rotary logo for the 2022-2023 Rotary year at the link. https://my.rotary.org/en/news-media/office-president/presidential-theme
Service Above Self,
Coop