On July 20, 2022, we lost the first lady of the Rotary Club of Jacksonville, Michele Agee. I met Michele in 2017 at the Bike Ride to End Polio when she took off like a Zoomie and left me in the dust! Our hearts go out to President Jim and the entire Agee family.
Stephanie A. Urchick is selected to be the 2024-25 president of Rotary International. Urchick will serve as RI's second female president and is from our sister Zone 33.
On Saturday we had a great planning day for Rotaract with Matt Whetstone – President-Elect, Clay County Rotaract, Caleb Whilden – President, Downtown Rotaract, Mike Selah – District Rotaract Chair, Alex Elias – President, Beaches Rotaract, and Rachael Daven – District Rotaract Representative.

For those of you wanting to help the communities in Eastern Kentucky after the flooding, I would like you to consider donating directly to the Rotary Club of Pikeville or our Rotary International partner Shelterbox.
August is Membership and New Club Development Month. Is your club welcoming when a new member joins or a prospect comes in the door? What is your club doing to make members feel engaged?
With the recent concern about Polio in the US, the importance of Polio vaccination education has never been greater. What is your club doing to celebrate World Polio Day on October 24? Please reach out to our District Polio Chairs Marie and PDG Rich Turnbull to update them on your plans.
Pictures of the Week
A great visit to the RC of Orange Park Sunset with District Governor-Elect John Tabor, President Ralph Puckhaber and Assistant Governor Preston Mangus.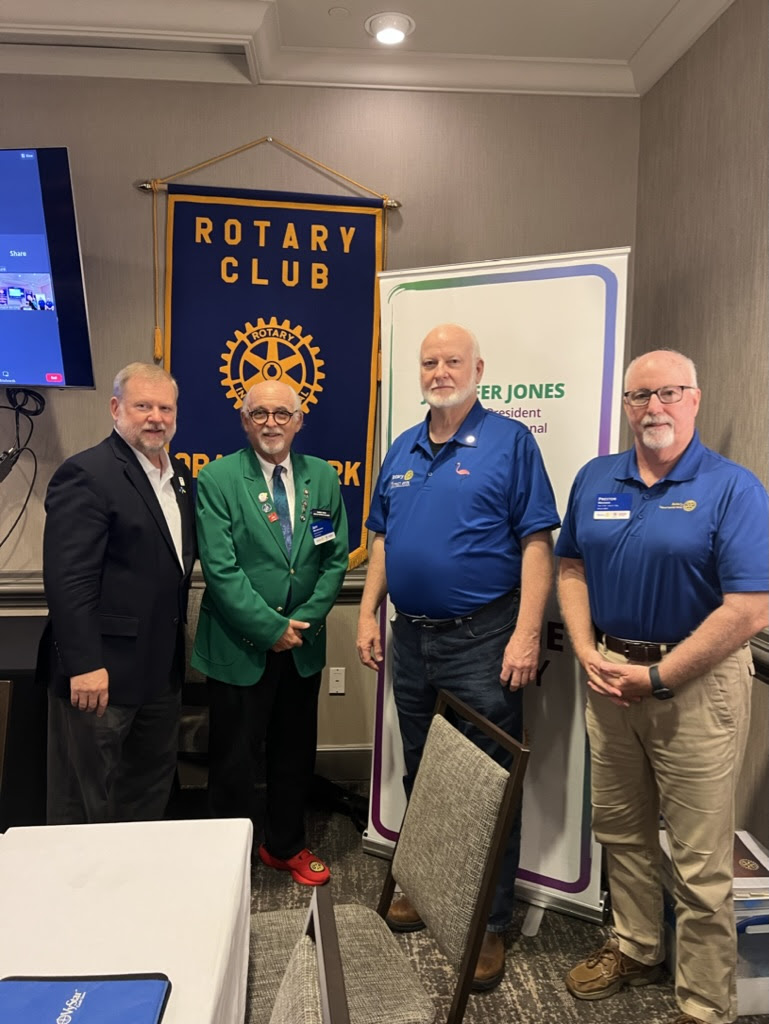 Congratulations to the Rotary Club of Edgewater for 40 years of doing good in their community as we celebrated with Assistant Governor Charles Miller and President Lindsay Malia.


I have to be honest that the women of Edgewater certainly do know how to have a crazy good time!