Have excellent calendar management skills and good tread on your tires?
Calling for nominations for District Governor!
It's that time of year again when we must consider who will be our future district leader. We are calling for nominations for District 6970 District Governor Nominee Designate. The individual selected will serve our members as District Governor for the Rotary 2024 to 2025 Rotary year.
To learn of the required qualifications and find out how to nominate someone go to https://rotarydistrict6970.org/nominating-a-district-governor/
Please consider nominating a special Rotarian for this very important Rotary position.
RYLA Update for June 2022   
To help clubs with budgeting purposes, we wanted to give you a heads-up on the RYLA direction for June 2022. It is our desire, if determined it is safe, to hold a live conference at Stetson University in June 2022. In that case, we will keep our registration cost to $395 and strive for 125 attendees. We hope you will keep us in mind and in your budget with that goal.
If we determine at a later date that the liability risk is too high to hold a live conference, we will hold a zoom conference again as we did in June 2021 for a registration fee of $100. That format can have a maximum of 80 attendees. We ended up with 63 attendees at RYLA 2021 conference and feedback was that the presentations were very interesting and informative and the interaction among the participants was much better than anticipated.
If any Rotarians or Rotaractors wish to serve on the RYLA Planning Committee or be considered as a speaker at either a live or zoom conference, please email Kathy Mignerey, RYLA 2022 chair, at mignereyk1@yahoo.com
Club Events Coming up 
Rotary Club of Southpoint Jacksonville – 19th Annual Fall Clay Shoot Friday, September 24th.
For more info, contact Robert Perry at 904-240-4815 or robert@robertperrylawfirm.com
Send me your clubs upcoming events with a link if you have it and I'll get it in the Minutarian, so we share with the other Rotarians in our District.
Up Coming Club Visits
If I haven't visited or scheduled a club visit with you yet, please reach out to me and give me two or three dates. I'd be honored to come out and meet the great Rotarians in your club.
Pic of the Week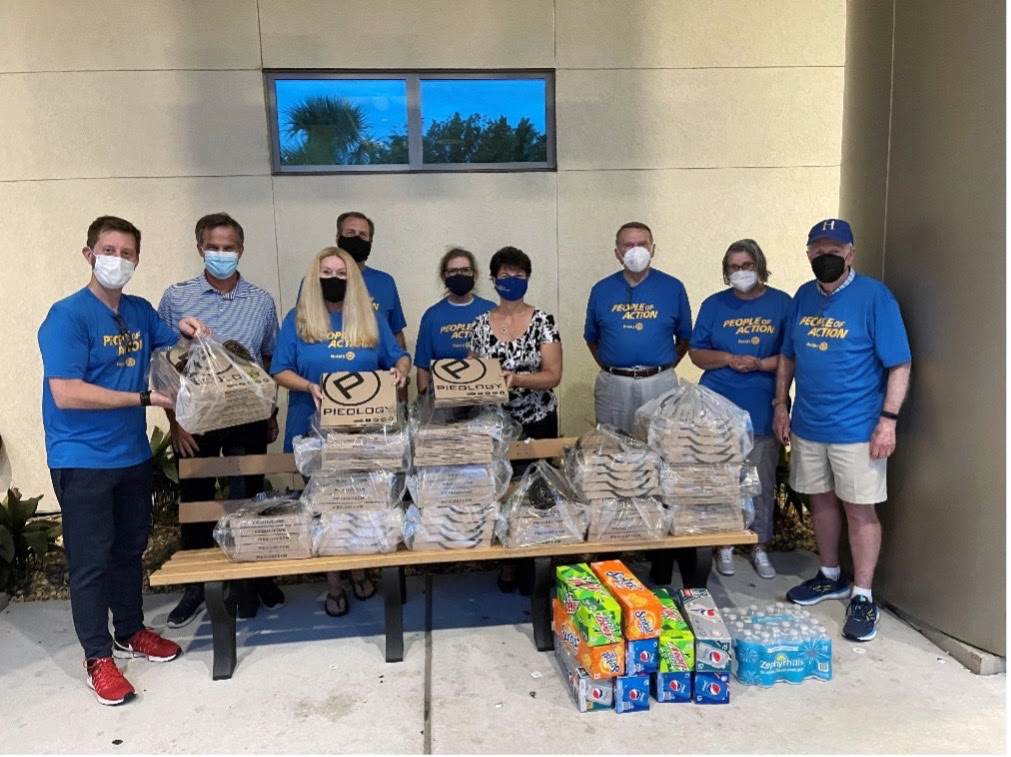 Members of the Ponte Vedra Rotary Club feed the staff at Baptist Beaches Hospital as a local service project.
Service Above Self,
Coop