Week 23, December 1, 2019
Well….about that Jaguars Rotary Game last Sunday…..
There seemed to be only one really big winner.  It was Rotary.  At 12:40 PM Sunday, Jaguars President Mark Lamping handed…. [drum roll, please]…a $30,000 check to our Rotary team.  With the Gates Foundation match, that will be almost $100,000 to eradicate Polio!  Awesome work, and YOU did it.
My son texted me after a pretty abysmal first half and said, "If they'd just put the Rotarians onto the field, they'd at least get some folks who know how to drive an effort into the End Zone."  He's right:  we've conquered polio in Syria, Nigeria, and lots of other impossible places.  And, with your help this past Sunday, we'll drive Polio into the End Zone.
If you want to help more with Rotary Foundation programs, remember that Giving Tuesday is December 3.  You can give on-line, or through your club.  And don't worry if you're late and give on December 5 or 6—we'll still do good stuff with your money.
Oh yes—and if your club wants to nominate anyone to play offensive line next Sunday, we could probably find them a place on a team in Jacksonville…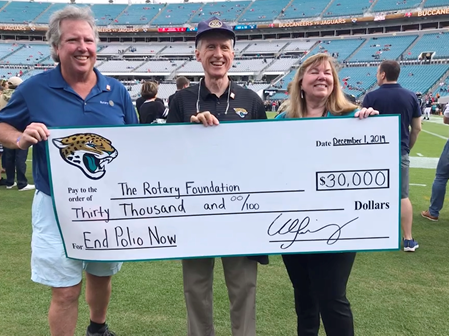 Mike Darragh
2019-20 District Governor
mikehdarragh@gmail.com
---
Hurricane Dorian Rebuilding-How You Can Assist
Week of December 1, 2019
​IN THE AFTERMATH OF HURRICANE DORIAN-LONG-TERM RECOVERY OPERATIONS ("LTRO"):
ROTARIANS REBUILDING ABACO & GRAND BAHAMA ISLANDS
According to the officials, the 2019 hurricane season has now ended. Not so fast! The real work, known as LTRO, is far from over and the leadership of the various Rotary Clubs located on the Abaco and Grand Bahama Islands need aid from Northeast Florida Rotarians and Friends in implementing their rebuilding initiatives.
LTRO- Through the financial generosity of the District 6970 Rotary Family, we have already commenced certain vital assistance programs: initially in the delivery into Freeport of heavy-duty logistics on/off loading (forklift; pallet-jack) & over-the-road delivery (trailer) equipment.
BACKGROUND- The record-breaking "Cat-5" storm, DORIAN, was a behemoth which initially in late August and early September 2019 had its sights set on Central and Northeast Florida. We were very lucky and dodged the bullet this time; but not so in certain nearby areas off the coast of Florida.
DESTRUCTION- This hurricane is reported to be the most intense storm on record to hit the island nation of the Bahamas. It decimated and left total ruination throughout parts of the Abaco and Grand Bahama Islands; killing more than 60 people, leaving hundreds of pets abandoned and causing over $8 billion of damage to homes, schools, medical facilities, churches, community centers, government facilities and other basic and critical infrastructure (transportation & logistics; water; electric; etc.).
REQUEST TO THE ROTARY FAMILY IN NORTHEAST FLORIDA- If you or your associates have access to orphanage, school and/or building supplies and equipment, including transportation equipment for abandoned pets, contact our Disaster Committee Co-Chair, Pat Mulvihill, at pem@axisp.com; or, text to 904.534.0035
THE LTRO IS UNDERWAY-Please continue to stay-tuned to this website for UPDATES & PICTURES.
Click HERE to donate:  PayPal/Credit Card  All funds donated are dedicated solely for post-hurricane Dorian recovery & rebuilding initiatives
If you prefer to donate by check, click the "READ MORE" below for additional information.
ROTARY – DG 2022-23 Announcement
It is with a great deal of pleasure that I announce to you that Jeff Michelman from the Rotary Club of Oceanside has been chosen by the Nominating Committee to be the District Governor for Rotary International District 6970 for the years 2022-23. Jeff has an outstanding record of service in our District. He has been a member of the Rotary Club of Oceanside since 1996 and served as President in 2016-17.
Jeff has also worked tirelessly for the past two years as District Polio Chair, and has personally shown his commitment TWICE by bicycling the grueling 100-mile Arizona Ride to End Polio to raise funds personally for the cause.  He has also served as Assistant Governor for the past three years, and helped found the Town Center Rotaract Club in 2018, and UNF Rotaract Club in 2010.
This year the Rotarians serving as members of the Nominating Committee were: Nominating Committee Chair PDG Marshall Butler (West Jacksonville), Vickie Cavey (Ponte Vedra Beach), Tim O'Donnell (Flagler Beach), Sandy Rogers (East Arlington), and Steve Crump (Deland Breakfast). This committee executed its duties with professionalism and dedication to select the most qualified candidate.  They were also assisted by PDG Brent Coates, who assisted during interview preparation, and was a non-voting member of the team.
As prescribed in our District procedures and in keeping with the by-laws of Rotary International, any club which submitted a candidate for consideration by the nominating committee has the right to challenge the decision of the nominating committee within 15 days of the announcement. That challenge shall be in writing to the District Governor and must be received in that 15 day time frame. If no such challenge is received by December 21, 2019, I will declare Jeff Michelman the candidate selected by the Nominating Committee to be the official District Governor Nominee Designate for 2022-23,  to serve his term in the year beginning July 1, 2022 and ending on June 30, 2023 and send written certification to the General Secretary of Rotary International.
On behalf of all of District 6970 I want to thank the members of the nominating committee for their service, and the clubs that submitted nominations for the position.
District 6970 Governor 2019-20
RYE Florida
The Rotary Youth Exchange annual Big Country Reveal is coming up December 11. This is a FREE event and open to everyone. A headcount is needed for seating/light refreshment.

2020 INTERNATIONAL CONVENTION
HONOLULU, HAWAII June 6-10, 2020
Rotarians are encouraged to book early as there are more Rotarians than normal expected at the Honolulu Convention.  Enjoy the special video below about the 2020 Convention.
Registration for the Honolulu Convention is now open
How to Create a My Rotary Account
How to Register Guide
The Five Avenues of Service
Club Service
Club Service focuses on making clubs strong.
A thriving club is anchored by strong relationships
and an active membership development plan.
Vocational Service
Vocational Service calls on every Rotarian to work
with integrity and contribute their expertise to the problems and needs of society.
Community Service
Community Service encourages every Rotarian
to find ways to improve the quality of life for people in their communities and to serve the public interest.
International Service
International Service exemplifies our global reach in promoting peace and understanding. We support this service avenue by sponsoring or volunteering on international projects, seeking partners abroad, and more.