February is Peace and Conflict Prevention/Resolution month. Conflict and violence have displaced more than 68 million people in the past year, and half of those are children. We refuse to accept conflict as a way of life. Rotary projects provide training that fosters understanding and provides communities with the skills to resolve conflicts. Rotary makes help happen through our service projects, peace fellowships, and scholarships. Our members are taking action to address the underlying causes of conflict, including poverty, inequality, ethnic tension, lack of access to education, and unequal distribution of resources. Your financial support of Ukraine continues to amaze me—thank you! To learn more about how Rotary International gets involved in promoting peace and understanding: click here. The Rotary Foundation's Seven Centers for Peace are part of the solution, but your support for students in Rotary Youth Exchange, RYLA and participating in our District's Food packaging event on March 25 are ways to bring Peace and Conflict resolution into your club.
Past District Governor Rich Cooper challenges each of you to support the District Food packing event along with this year's RYLArians on Saturday March 25 at Beachside High School just off Florida 210. Perhaps your reluctance to attend is because PDG Coop looks better in a hairnet? Just saying…


We will be doing District Grant Training for those clubs planning to apply for grants during the 2023/34 Rotary year. More details will be forthcoming. Two club members who will be involved in your grant submission should plan to attend.
Clay County Rotaract is having a fundraiser on February 16, 2023, at the Orange Park Mall starting at 6pm. We are supporting a local nonprofit called TLOV which rescues dogs with high medical bills. If you are available, we would love your support at the event and your help spread the word. We are collecting monetary and in-kind donations (i.e. dog toys, food, etc.) from now until the fundraiser. We hope you all can join us for a fun-filled night of puppy love! Click here if you would like to donate!
Please join the Rotary Club of Fleming Island for a Wine and Beer Pairing on Saturday, April 29th at 6:30pm at the Pace Island Club House on Fleming Island. Proceeds will benefit the Clay County Dental Care and Clay Education Foundation and tickets can be purchased at www.qr.link/nuJ8ag. Point of contact-Mindy Logan 601-946-8250.
Pictures of the Week
The Rotary Club of Ponte Vedra presented its Second Annual Rotary Heroes Awards in Nocatee on Tuesday. The 2022 Firefighter of the Year, Lieutenant Mike Pepper who is a twenty-year veteran of St. Johns County, is stationed at Station 18 in Nocatee. The 2022 Deputy of the Year, Senior Deputy Nate Datsko, who also works in Nocatee, has been with St. Johns County Sheriff's Office for 23 years, but he has been in law enforcement for thirty-two years. They received Rotary International sanctioned medals and donations were made in their honor to their favorite nonprofit charities. Ponte Vedra Rotary Charter President and current AG3 Kelly Altosino-Sastre was the Chair of the event and is happy to help your club to start a similar recognition for heroes in your community.


The last official club visit was completed this week when District Governor-Nominee-Designate Dale Moe and I visited the Rotary Club of Springfield with a great welcome from President Kim Sadler and President-Elect Roberto Arias.


What a fun night at the Alhambra fundraiser with Beaches Rotaract raising over $20,000 for Operation New Hope. Thanks to Fundraising Chair Joe Bove (President-Elect as well) for your leadership. President Alex Elias, thanks for inviting us.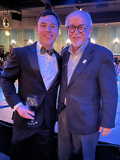 I had a chance to support the Rotary Clubs of West Volusia County as they provided important infrastructure support and leadership for the MeStrong 5K to benefit Cancer, which completed their 11th event (Keira Espada, RC of Deland; Amanda Agnew, RC of Deland Breakfast; Aaron Preston, RC of Downton Deland; Sarah Hancock, Rotaract Club of Deland; and Joe Hearn, RC of DeBary-Deltona-Orange City.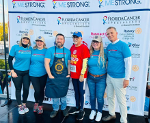 Rotary in West Volusia County continues to rock through the strong continued leadership of Karen Weiss from the Rotary Club of Deland.

Manning the water station at Sunday's Marathon to End Breast Cancer were Fletcher Interactors and Oceanside Rotarian Karen Perrin.