This was a great week for RYLA Act Two on Zoom. We need to thank RYLA Chair, Michael Bruce (RC of Ponte Vedra Beach); Day Chair Meg Folds (RC of San Marco); Technology Guru, PDG Marshall Butler (RC of West Jacksonville); Presenter Matt Ohlson (RC of Jacksonville); and Presenter Christine Hoffman (RC of Jacksonville Oceanside). The day also featured a presentation by our amazing Rotary International Director, Jeremy Hurst (Rotary Club of Grand Cayman). We had over 70 active participants for the four-hour session. Act Three will take place concurrent to the District Conference on May 13 at Ketterlinus Elementary School in St. Augustine. Thank you to UNF's Taylor Leadership Institute for sponsorship of Act Two.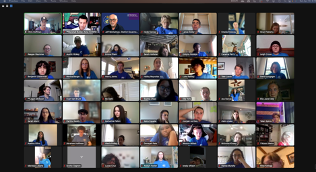 As clubs begin to get their teams ready to take on new roles in 2023/24, Zone 34 has put together 3 Bootcamps, Zoom Webinars (each at 6pm): Public Image—April 24; Membership—May 1; Foundation—May 11.
Have you and the key members of your club signed up for the District Training Assembly to get tools for officer and club effectiveness? Have you signed up for the District Conference beginning with our opening dinner on Friday night May 12 continuing through 5pm on Saturday May 13? Details of the weekend's events, topics and speaker bios and pricing (including ala carte) can all be found on the District 6970 website and signups are available in DacDB. Remember, prices go up on April 20, 2023.