On Saturday I had the opportunity to attend a webinar on Turkey with Past Rotary International Director Safak Alpay, Rotary Foundation Trustee Geeta Manek and District Governor Emre Ozturk (District 2430 was the epicenter of the earthquake). Your participation in a $182,900 grant for helping recovery efforts after the Turkey earthquake ($155,000 is going toward helping a mobile daycare center to be available for children in temporary housing) made me very proud. We received almost $25,000 from Rotarians across the District and we combined that with $20,000 of our District Designated funds from the Rotary Foundation to make our contribution $45,000.  Please share this heartwarming news with your members.
We are monitoring two major humanitarian disasters—Haiti and Sudan. In Haiti, Rotary has been actively involved in HANWASH (Past District Governor Cynde Covington from the Rotary Club of South Jacksonville is the Board Chair) to provide clean water to the entire country of Haiti. We are looking for additional ways to help with the uncontrolled violence. We will be sending more information as part of a call to action when we have a plan.


In contrast, you are aware, Sudan is experiencing a civil war of significant magnitude. Jacob Atem, from the Rotary Club of Gainesville will be a keynote speaker at the District Conference and will help us to better understand this conflict from his long-term perspective, having escaped from Sudan in 1991. The ongoing conflict in Sudan has resulted in the displacement of thousands of South Sudanese who are currently trapped in Sudan. The chaos caused by the fighting has endangered refugees who are attempting to flee the country. According to the United Nations Office for the Coordination of Humanitarian Affairs (OCHA), as of April 26th, 2023, 5,220 people (738 households) have already arrived in South Sudan from Sudan. Over ½ of the refugees are children.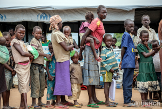 Our Rotary District 6970 will be working with the Rotary Club of Juba at the Airport, Juba, South Sudan and with the Humanitarian partner on the ground, Southern Sudan Healthcare Organization (SSHCO) to scale up the humanitarian response in Renk. With the funding we receive, we will be purchasing basic items: water, food, medicine, and clothing for the South Sudanese Refugees returnees from Sudan to Renk, South Sudan. Our call to action is for clubs and individuals to donate to the York Foundation to help the refugees in South Sudan. We are in no way becoming involved in the Civil War in Sudan.
World Immunization Week was April 24-30. This was an opportunity to raise awareness about the effectiveness of vaccines and mobilize community support for immunization. In July 2022, the WHO and UNICEF reported the largest sustained decline in childhood vaccinations in approximately 30 years. An estimated 12.5 million children in the world are totally unvaccinated. Vaccination is one of the best tools we have to improve people's health and well-being. Global vaccination programs for preventable diseases, such as polio, need to continue to protect vulnerable children and prevent outbreaks. Rotary members have proven the good that vaccines do by immunizing 3 billion children against polio and reducing the cases of polio by 99.9% since 1988. But we know the job isn't done until every child is vaccinated, and polio is stopped for good. If you want to feel good about what Rotary is doing to End Polio, look at the picture that a Rotarian recently snapped at the Frankfurt, Germany airport.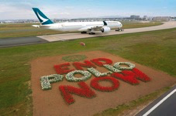 The U.S. Rotary Club & District Liability Insurance Program provides all U.S. Rotary and Rotaract clubs and districts with general liability and directors & officers / employment practices liability insurance. Unfortunately Rotary and Rotaract clubs continue to post images and other media (cartoons, songs, etc) online in disregard of copyright laws, resulting in a considerable increase in claims activity under the U.S. Rotary Club & District Liability Insurance Program ("Program"). Over 40% of the Program's open claims now pertain to copyright infringement. Copyright owners hire companies offering software that "trolls" the internet in search of copyright violations involving their images or other media. These companies are commonly referred to as copyright trolls. When a troll finds a violation, they contact the party who mis-used the image or other media and make a demand to settle the violation. Failure to respond to the demand increases the difficulty of resolving the claim. It is your club's responsibility to comply with copyright laws. Contact Risk Management immediately if your Rotary or Rotaract Club receives a notice of copyright infringement. The program may provide coverage depending on the way the image or other media was used. Instead of lifting images or other media off the internet, use images or other media created by members of your Rotary district (first receive their permission) or use the Rotary Brand Center.
The Satellite Club of Jacksonville Oceanside had their first fundraiser to benefit Mission House in Jacksonville Beach.



Pictured above are Satellite Chair Joann Campbell, Past President of the Rotary Club of Ponte Vedra Beach and Mission House Board Chair Billy Wagner, and Jacksonville Oceanside President Wendy Ranson.


Members of the club were quite excited about raising over $2,000 at their first fundraising event.

Last week I mentioned the great fun I had installing the board at Flagler County Palm Coast High School Interact. Well Past District Governor Marshall Butler went to the archives and found the photo of when he joined then District Governor, Percy Rosenbloom, to sign the charter in 2014. Great memory!

These four young Rotarians from the Interact Club of Mayport Coastal Sciences Academy showed up at Jacksonville Oceanside Rotary to present President Wendy Ranson with a check to End Polio!
We need to make our food commitments on May 5 so prices will become "walk-up" prices beginning on May 5, 2023, so make sure that you register prior to that date. Details of the weekend's events, topics and speaker bios, and pricing (including ala carte) can all be found on the District 6970 website.