This was a wonderful week to celebrate youth in our communities. We just learned that the International Fellowship of Scouting Rotarians has recognized the Rotary Club of Orange Park for outstanding international service to IFSR/Scouting/Guiding. The IFSR Silver Wheel Award is awarded for exceptional and exemplary service in support of IFSR international activities or Scouting / Guiding Movement in international activities.



We are very proud of the District 6970 Rotaractors who came out for the first annual Rotaract Olympics.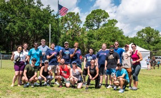 District Interact Chair Doug Brown and I had a fun night at Fletcher High School presenting this amazing Interact Club with the Zone 34 Interact Award.



The club had 120 active members before Covid and are rebuilding to get all 120 members to be active again. You must interview to get into the club. Year in and year out, this Interact Club is selected by Fletcher High School as "Club of the Year.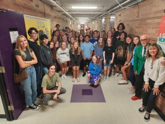 Rotary District 6970 Interact Chair Doug Brown and I had the chance to visit St. Augustine High School Interact as they did their officer changeover, recognized seniors, and gave us an opportunity to recognize this outstanding group of students with the Zone 34 Interact Award as a result of their active role in the St. Augustine community.


Thanks to the Rotary Club of St. Augustine President Claudia Dencer for inviting us.

We had a chance to visit the Wild Game Feast of the Rotary Club of Deland Breakfast.


District Secretary Karen Weiss was awarded the "West Volusian of the Year," which was very special for Maureen and I to be there to help to recognize Karen and husband Scott.



All the Deland Clubs work together on all fundraising events, which is a great model of collaboration (note the Rotary Club of Deland President Keira Espada). What is interesting is the president of the Rotary Club of Gainesville (note Rotary Club of Gainesville President Greg Young) visits the eland Wild Game Feast and President of the Rotary Club of Deland Breakfast Amanda Agnew visited Gainesville's Wild Game Feast. This friendly competition causes both events to continue to become better.


While at the Wild Game Feast, I had a moment to catch up with Past District Governors Wes Eubank and Cecil Gibson.


It is likely that you may have received a random email last week, pondering whether it was from me. Rest assured it was not. My plan was to ignore this after I changed my Gmail password (which I did immediately), but I am still getting inquiries about the email's authenticity, so I thought I would let our district leaders know, as it also went to some random members. So, unfortunately, I do not have any scintillating news for you and there is no need to buy gift cards…The joys of technology.
See you at the District Training Assembly and Conference on Friday and Saturday in St. Augustine.