All I can say is that it was again a great Rotary International Convention which was characterized by learning about how much good we do in the world. Whether we were hearing about President Jennifer Jones Imagine Tour around the world which focused on Polio and Empowerment of Women or President-Elect Gordon McInally's focus on Mental Health as a result of the personal tragedy in his family resulting from his brother's suicide, we all learned how important our role as Rotarians in our community and around the world is. Fellowship opportunities abounded and Maureen and I were pleased to meet so many of our members either by chance or at planned events.
A clear highlight for us was a Rotary Wine Appreciation Fellowship event that featured Penfold's Grange and a chance to share the evening with Rotary International President-Elect Gordon McInally and his delightful wife Heather.

Speaking of the Rotary Wine Appreciation Fellowship, many of you heard at the District Conference that we plan to start a chapter in District 6970. Leadership is being provided by the Rotary Club of Greater Gainesville, lead by Patti Fabiani. Some exciting news that I shared with President Bree Guiterman and husband Justin is that I was elected to the board of the fellowship. If you are interested in getting involved, please let Patti or me know.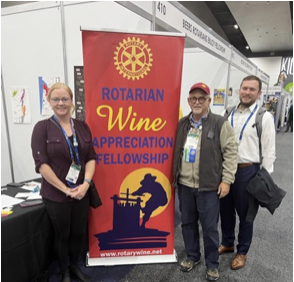 For those of you who attended the District Conference, 12-year-old Orion Jean inspired each of us. At this year's International Convention, Nakeeyat Dramani Sam, 10-year-old climate change advocate and environmentalist, spoke. She won the TV3 Ghana Talented Kid at the age of 7 and was honored as the Young Peace Ambassador. Nakeeyat Dramani is a poet and writer who has written her first book on trees, "Nakeeyat Trees for Life", and is currently embarking on her next project, "One Tree, One Child". She is passionate about making Ghana green in the years to come. Wow!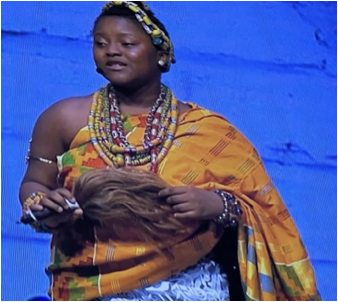 Chantel Vallée, Head Girls Basketball Coach and General Manager of the Hamilton Honey Badgers, a 5-time Canadian National Championship team, gave an inspiring presentation about setting goals that will create a "call to action" for those who you want to follow you. We are often better than we can imagine what we are, leading one to ask, "what could your club be, beginning in 2023/24?"

Rotary International President Jennifer Jones was pleased to announce The Sylvia Whitlock Leadership Award which honors one Rotary member each year who has actively worked to advance women in Rotary. It is named for the first female Rotary club president, who went on to lead change for women around the world through Rotary. The award was originally established by a group of Rotarians before the Board of Directors voted to make it an official RI award.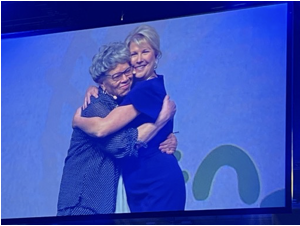 Greetings from Woodbridge, Tasmania, Australia, where Maureen and I are spending time with friends as we make our way back to the US on Friday. We are quite excited to join a number of you to celebrate your successes this year and install boards for 2023/24.
If you attended the District Conference, you were in awe of Rotary Club of Gainesville member Jacob Atem, who I caught up with at the Sustainable Cambodia booth. Jacob also caught up with his brother who lives in Melbourne—they had not seen each other in 20 years!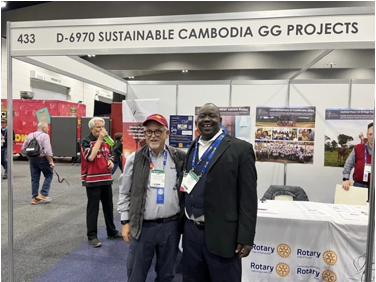 While walking around the House of Friendship, I heard someone yelling "Jeff" and I turned around to see Rotary Club of Ponte Vedra member Donna Guzzo.

Although I missed seeing Rotary Club of Crescent City president Luci Valdivia-Sanchez, she did grab a photo with District Governor-Elect John Tabor.

District Governor-Elect Mickey Ulmer and I ran into Past President of the Rotary Club of Port Orange/South Daytona, Greg Bartholomew. An added benefit for Greg was a chance to catch up with his daughter!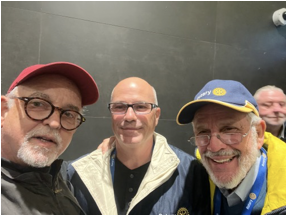 I was so happy to share the closing ceremony with the Rotary Club of St. Augustine Beach President-Elect Sallie O'Hara and Rotary Club of St. Augustine President-Elect David Upchurch.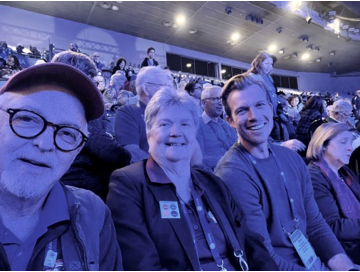 At Tuesday night's "Streets of Melbourne" event, your District Governor Group was joined by an impromptu group of Dutch Rotarians.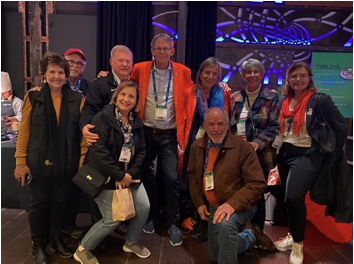 Our last night in Melbourne gave us a chance to thank Ann Tabor, Maureen Michelman and Gail Ulmer for their support throughout the year!