It is hard to believe that the Rotary Year is coming to an end. I want to personally thank each of you for all you do in supporting Rotary's mission to improve our communities by taking action. I also want to thank each of you for the hospitality that you showed to Maureen and me when we visited your clubs. She was particularly taken aback by your friendship. Together we Imagined Rotary.  At the District Conference I shared the story of Past District Governor Frank Rasbury (Lt. Col. US Army Ret.) from the Rotary Club of Ocala who is the epitome of what it means to be a Rotarian. If you have not seen it, please watch, or feel free to watch it again. It will make you Rotary proud!
I am pleased to report that Caroline Blochlinger from the Rotary Club of Amelia Island Sunrise has been selected as an Assistant Regional Public Image Coordinator. This role rarely goes to someone who has not served as a District Governor, which says volumes about Caroline's expertise in Public Image. She is one more important resource in our District for Public Image as Past District Governor Marshall Butler moves up to Director of Public Image for Zones 33/34.


"RLI – the biggest event of the summer" is coming to Orange Park on Saturday August 12th!  It will be held at St Johns River State College (Orange Park Campus) and feature RLI courses Part 1, 2, 3 plus a Graduate course covering the Rotary Foundation.  You can use the following link to register: https://rotarydistrict6970.org/rli-orange-park/
Sandra Shank from the Satellite Club of Flagler Beach-Bunnell did an amazing job as keynote speaker on transformational leadership at the Zone 34 leadership Summit. She made us all District 6970 proud.

In the Week 48 Minutarian, it appears that I messed up when I stated, At the Zone 33/34 social event, I had the chance to share a beer with President-Elect Pete Stanton and President-Nominee Ed Aldridge from the Rotary Club of New Smyrna Beach. Anyone who knows Pete and Ed knows that they are from the Rotary Club of Edgewater. While I was "down under," I seemed to have confused North and South Park St. How I could confuse these two clubs remains somewhat unclear, or confuse these unique Rotarians… My apologies to both clubs.


Fundraising opportunity for District 6970 clubs! October 2-8, 2023, the Champions Tour will be at Timuquana Country Club in Jacksonville, playing the Constellation Furyk & Friends presented by Circle K tournament. Details are here: https://constellationfurykandfriends.com/ Furyk & Friends will set up a unique QR code and link for each participating club, so each club can share that as well as flyers produced by tournament staff. CLUBS receive 100% of the ticket prices ($25/day or $60 for the week) for club charities! If your club is interested in this, email Clare Berry and she'll help your club get set up!
District Governor-Elect John Tabor will be sending out an email to get members interested in attending the Singapore Convention into an email group. We received feedback this year that messaging with respect to information and events at the Melbourne Convention was inconsistent. On to Singapore Chair Dale Moe and Co-Chair Jeff Michelman have already identified Tuesday May 25, 2023 as the date for a District Dinner in Singapore (Save this Date).

As we prepare for this year's Hurricane season, we are trying to strengthen relationships with Emergency Operations Centers (EOC) across the district. If members of your club are leaders in Police, Fire or in other EOC roles, please send their names and job title to District Governor Nominee Mickey Ulmer who is building a list of resources in our district.
If your club plans to be involved in this year's Jaguars/End Polio Program, please send the name of your Jaguars Chair to Jeff Michelman ASAP. We plan to send out the details in early July and tickets will be available on a first come first served basis, so we need to know the Point of Contact for any clubs who plan to participate.


As we close out this Rotary year, I want to wish the best of luck to DG John Tabor and all of our newly installed club and district leaders as we work together to Create Hope in the World.



[Ring the Bell]
As the Rotary year comes to an end, we continue to celebrate the successes of clubs across the District. Beaches Rotaract was especially nice as a year ago I had the chance to install President Alex Elias' board and this year President-Elect Joe Bove gave me the same opportunity.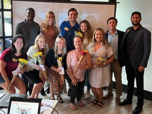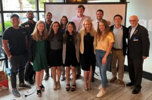 In a visit to the Rotary Club of Ponte Vedra Beach, I had a chance to thank Assistant Governor Kelly Altosino-Sastre for her leadership and be part of recognizing 10% of the amazing Rotarians in the club with Paul Harris Fellowships.

We had lots of fun inducting two new members and installing President Chris Folds and his board at the Rotary Club of San Marco.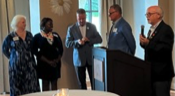 District Governor Nominee Designate Dale More was dashing as he congratulated the elegant President Marie Gnage at the Rotary Club of Jacksonville's President's party.

While attending the Rotary Club of Orange Park, I had the chance to award Community Philanthropist and Rotarian Jerry Agresti a Paul Harris Fellow right before I installed Club President Gi Teevan and her new Board. A special treat was being rewarded with a handcrafted and personalized Rotary Wheel by President Bo Norton from the workshop of Past President Curtis McClees.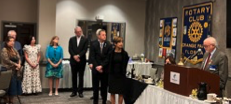 One last time for the District Governor Corps to Imagine Rotary with Downton Rotaractors Megan Madrid Kinhofer, Kendall Wilson and Eustachius Roberts at this year's Zone 34 Leadership Summit.

6/8 of Florida's District Governors caught up with Past Rotary International President and The Rotary Foundation President-Elect Barry Rassin along with Zone 33/34 Chief of Staff Art MacQueen (PDG from the Rotary Club of Flagler Beach).

At the Rotary Club of Ponte Vedra Beach's 40th Anniversary Celebration, I had the chance to celebrate with Founding Club President and PDG Steve Melching and Founding Member, PDG Bill Hill.

The closing session of the Zone 34 Leadership Summit was a panel discussion focused on Responding to Disaster and included District Governor-Elect John Tabor where he discussed the unique nature ofdeveloping important partnerships with Rotarians and non-Rotarians around the world, which led to almost $1.5 million in aid for Ukraine.